Summer Term 2019 – Newsletter (first half of term)
Posted: 28th June 2019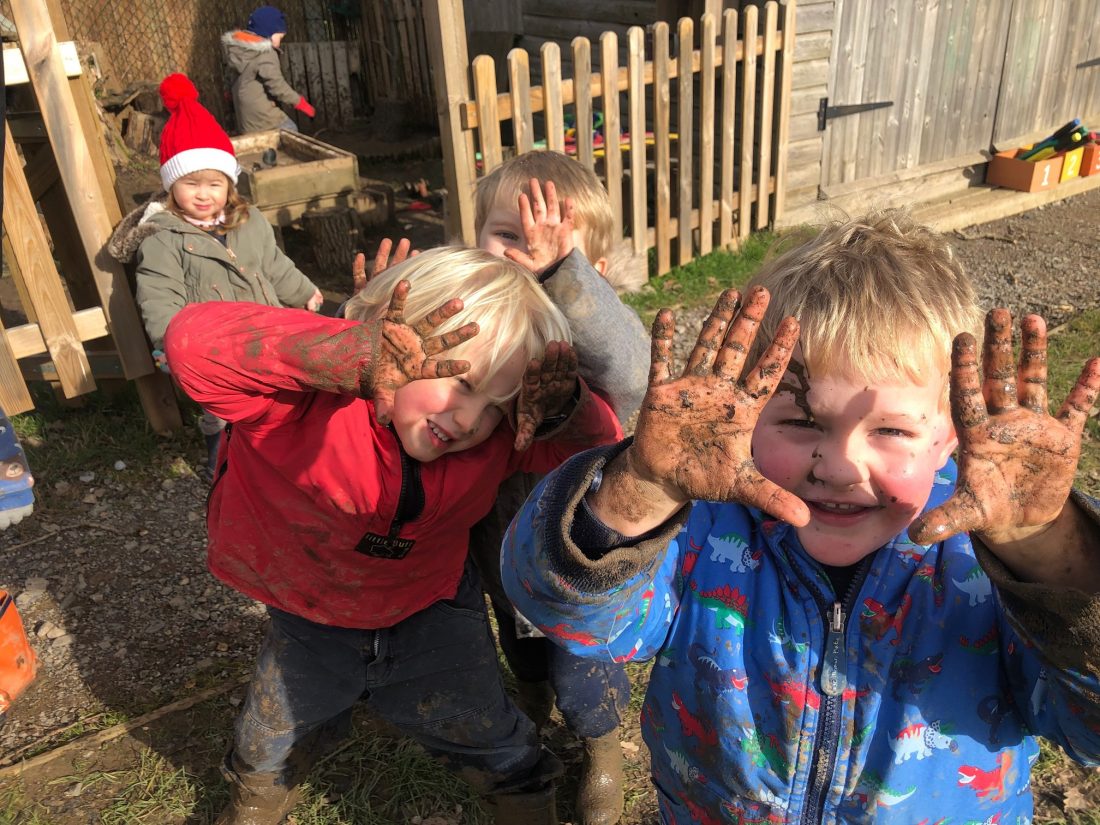 Welcome back after the Easter break – we all hope you had a relaxing couple of weeks. For some of you this will be your last term with us, but we will make endeavour to ensure it is a memorable one and great fun for your children.
During last term we were joined by Jack and this term two more children start their adventures with us – James and Rosalie are starting in early May. Please make yourselves known to their parents when you meet them at drop off/pick up time.
Spring Hat Parade
Thank you to everyone who attended this event – we saw some wonderful creations and it was a pleasure to see so many supporters come along to watch and enjoy this traditional end of term event. We raised a huge amount and have been able to participate in the Living Eggs project. The children are enjoying watching the daily progression of our little fluffy friends and learning so much in the process. Many thanks for your support and generosity.
Prêt a Portrait Leavers and Individual Photos – Friday 17th May
Prêt a Portrait will be visiting us on Friday 17th May to take our traditional Leavers, and individual, photographs. The Leavers photo has always been a special memento for those moving on to their next schools and we really would appreciate it if you could arrange for all those children leaving us in July to come into nursery on the morning, wearing their nursery uniform please. The children are photographed in small groups, and these are then joined together to create one large group photo (an example of which will be in reception) which we do hope you will want purchase. Our other children are welcome to come in if not their usual day, to have individual photos taken but parents will need to stay with these children and take them home once the photo has been taken – this will be after all the leavers photos have been taken. Photos will then be made available to order through Prêt a Portrait's website – details of which will be circulated shortly after the photo shoot. A sign-up sheet for photos will be available in reception.
Sports Day – Friday 24th May
Our next big event will be Sports Day on the last day of this half term – Friday 24th May. We hope to be blessed with glorious sunshine whilst the children display their sporting prowess (with the odd parent race to enjoy too!) followed by a fund-raising event which will include hook a duck, a raffle, barbeque and ice creams! All family and friends are welcome, indeed encouraged, to come along for a fun morning. Races start about 10am (all children are welcome to join us at 9.05 and we would be grateful to have everyone in nursery by 9.45 so we can put them into teams etc). In order to make this event the success it has always been, however, we do need volunteers for various tasks including:
Make contact with local businesses to request raffle prizes:  The BBQ, a drinks stall, run various games for the children to enjoy, sell raffle tickets on the day.
A sheet will be available for volunteers to add their names against specific tasks and Kate will discuss roles in more detail.
Whole Nursery Trip to the Seaside – Tuesday 11th June
Thank you to everyone who has returned their slips for our annual trip to West Wittering on Tuesday 11th June. If you have not received your letter please let us know. Forms and payment are due in this week so that we can organise staff and catering. We need to leave the village hall by 9.05am, to spend as much of the morning on the beach as possible, have a barbecue lunch then return to Grayswood by 2.45pm.
Orchard Planting – Sunday 9th June
Open afternoon in the woods with orchard planting. Please keep this date in your diary and full information will be sent out soon.
Big Family Camp Out – Saturday/Sunday 22nd/23rd June
Come and spend the night at Autumn Woods, a bbq and fire available to cook supper and time to relax and chat. If you want to experience camping out with your children this is a fantastic night to start, not too far from home, lots of friendly support and familiar surroundings for your children.
Leavers Outing to the Magic Garden, Hampton Court – Monday 1st July
Every year we take our leavers out on special trips away from the nursery. Our first trip is to Hampton Court's Magic Garden on Monday 1st July. The children will travel by minibus or Defender and spend the day in the beautiful surroundings of Hampton Court.
Leavers Outing to Portsmouth Historic Dockyard – Monday 15th July
The second trip involves taking the train from Haslemere station to Portsmouth, before walking to the Historic Dockyard, looking at the various ships and exploring HMS Victory, before taking the return trip back to Haslemere. Always a great day out for everyone!
Leavers Celebration – Friday 19th July
Our last day of the summer term is also the last day of nursery for many of our children and we host a big celebration of their time with us before saying goodbye to them as they head off to their next schools. Please put the date in your diaries – Friday 19th July – for all our nursery children (not just those leaving us) to come in for 9.05am for a short practice of our play. Families and friends are encouraged to join us from 11.00am to watch the performance and to wish our leavers well. We aim to do this in the woods, but this is weather dependent, so confirmation of the venue will be made much nearer the time. We hope to see everyone come along and stay for family picnics after if the weather is being kind.
Sun, Hats and Water
This term, especially, it is important that all children come with NAMED sunhats and water bottles. We are unable to apply suncream, so please apply cream to your children at home before they come to nursery. The children will be kept in the shade as much as possible, but, of course, they love to play in the sunshine, so need to be protected from the rays and kept hydrated. We remind the children at registration time and throughout the day. Thanks for your co-operation.
Holidays/Absence
As you have read above, this is a very busy term. Many parents take holidays whilst it is possible to do so outside the school holidays, so please do let us know in writing in advance, using a form from the pink Parents Forms folder, if your child will be absent from nursery for a holiday, or for any other reason, and include the dates they will be absent. We have a statutory duty to know your child's whereabouts if they are not at nursery as expected. But more than that – it helps us plan our timetable to the children's great advantage. Many thanks for your help in this regard.
Invoices
These were distributed at the end of last term and were due for payment by 23rd April. Thank you to those who have already settled their accounts. Any outstanding invoices are now due for payment.
Parent Rota
A new rota for the summer term is available in reception for you to sign up – we hope as many of you as possible can join us for a day or two over the coming months as the children love to have their parent or carer share in their nursery experiences.
Moving on to School
This will be the final term for many of our children, and is the time of year when we pay special attention to helping children prepare for the new challenges ahead. Our older children have already begun to change into a PE top, and this term will be changing into full kit (ie shorts as well) when taking part in Miss Maureen's sessions.
Forest School
Children will still head to the woods in their red dungarees, but we recommend, on especially warm or hot days, that children wear light weight, long sleeved, t-shirts to keep bugs and potential stings and scratches away from bare arms.
DATES FOR THE DIARY
Tuesday 23rd April:                                         First day of summer term
Monday 6th May:                                             May Bank Holiday – nursery closed
Friday 17th May:                                               Prêt a Portrait Individual and Leavers Photo
Friday 24th May:                                               Sports Day
Monday 27th May – Friday 31st May inc      Half Term
Sunday 9th June:                                              Orchard planting
Tuesday 11th June:                                          West Wittering
Saturday 22nd and Sunday 23rd June:         Big Family Camp Out
Monday 1st July:                                               Leavers' trip to Hampton Court
Monday 15th July:                                            Leavers' trip to Portsmouth Historic Dockyard
Friday 19th July:                                                Leavers' Day and last day of term
Saturday 28th September:                             Films in the Forest – more details to follow
GENERAL INFORMATION
Session Times
Monday 9.05am – 2.45pm (Pre-School children only)
Tuesday – Friday 9.05am – 12.35pm
Tuesday and Thursday afternoons sessions end at 2.45pm
Contact Details
Village Hall telephone number: 01428 658931
Nursery mobile number: 07789 987280
Nursery e-mail address: info@grayswoodnurseryschool.co.uk
Nursery web-site: www.grayswoodnurseryschool.co.uk
NB The e-mail address is not accessible to staff whilst the nursery is in progress.
STAFF AT THE NURSERY
There are currently eight members of staff on the team each of whom works on different days as shown below. We also have Miss Maureen on Mondays for music and movement and Bollie for Playball on Tuesdays, with Steph Peat as our lunchtime supervisor.
| | | | | |
| --- | --- | --- | --- | --- |
| Monday | Tuesday | Wednesday | Thursday | Friday |
| Lara Butler | Kate Dean | Kate Dean | Lara Butler | Lara Butler |
| Kate Dean | Richard Dean | Richard Dean | Kate Dean | Kate Dean |
| Richard Dean | Natasha Hayes | Liz Juson | Richard Dean | Richard Dean |
| Natasha Hayes | Liz Juson | Yvonka Wilkinson | Natasha Hayes | Natasha Hayes |
| Steph Peat | Yvonka Wilkinson | | Anna Mitchell | Steph Peat |
| | Steph Peat (lunchtime) | | Yvonka Wilkinson | |
Committee Members
This year's committee members are currently:
Chair – Philippa Hawkins Secretary – Charlotte Brown Treasurer – Vacant
Finally, a few reminders:
The Nursery is not a place for poorly children. We are a learning environment and your child needs to be well in order to engage in their learning. If your child has been sick or had an upset tummy they must remain away from nursery for a minimum of 48 hours and not return until they have had a normal (for them) stool. As a general rule, children taking antibiotics should not be at nursery. Please ask us if you are unsure when your child should return to nursery after an illness.
Please keep us informed of your current contact details particularly mobile numbers. It is essential that whilst your child is at nursery someone is available to collect them in the event of an emergency. Please ensure if you are unavailable someone else is able to be contacted and collect your child.
Please do not let your children wear jewellery to nursery or bring small toys etc. As a guide children should not bring to nursery items which could fit inside a traditional 35mm film container.
"Staff are innovative and offer interesting and challenging experiences for children, that fully support their learning."