Spring Term 2018 Newsletter – Second half of term
Posted: 27th February 2018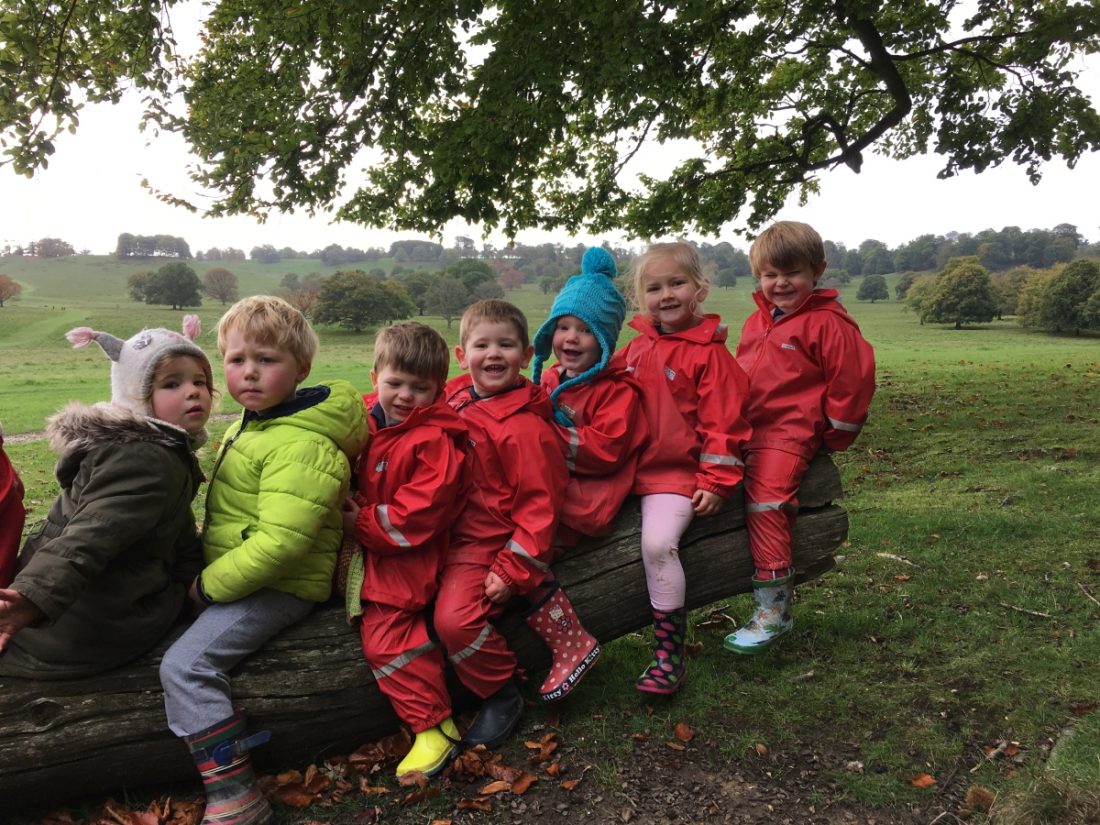 First, as you are all aware, we will be bidding a fond farewell to Jane Tims after 11 years at the nursery on Wednesday 28th February. A celebration is planned to start at 11.30am and everyone is warmly invited to join us for tea and cake so we can make a presentation and wish Jane well in her new adventures. She will be missed by all the staff and children so we hope to have a good turnout!
Secondly, congratulations to both Lara and Anna who have recently passed their Forest School qualifications. Lara is now a Level 3 Forest School Leader and Anna holds a Level 2 Forest School practitioner. The amount of work involved is huge and we really appreciate the commitment they have made to the nursery in working for and gaining these qualifications.
Hot Lunches
Our Monday children will be introduced to sitting down for a hot lunch from the start of this half term. The menu has been distributed and is shown below for reference. All food will be freshly prepared and cooked on the morning for the children to enjoy. Please ensure that your invoices are settled by Friday 23 February.
Monday 19th February – Fish Fingers, oven chips with petit pois and carrots followed by sponge cake and custard
Monday 26th February – Pasta Bolognese (with carrots, parsnips and courgettes) followed by jelly and ice-cream
Monday 5th March – Sausage toad with broccoli and carrots followed by fruit salad and cream
Monday 12th March – Shepherd's pie (made with courgettes, parsnips and carrots) and baked beans followed by Greek yoghurt with maple syrup
Monday 19th March – Jacket potatoes with choice of fillings: baked beans, grated cheese or tuna mayo followed by apple crumble and custard
Monday 26th March –  Chicken pie, roast potatoes, broccoli and carrots followed by fruit mousse
Helper Rota
The Spring term rota is available for completion on the grey table outside at drop off and in reception at pick up. We really do appreciate any help you can give us, even if it is just for a couple of hours in a day. The children love seeing their mums, dads, grandparents or close family members popping in to see what they get up to, whilst helping out the staff and reading to the children at the end of the day, so we look forward to seeing the empty spaces filling up and to having an extra pair of hands!
Fundraising events:
The Nursery Trustees are organising a fundraising Quiz Night to take place on the evening of Friday 23rd March. To purchase tickets please collect a form from reception.
Following the success of the Christmas Wreath Making workshop we will be running an Easter workshop on Sunday 25th March from 11.30am-1.30pm. Spaces are very limited so if you would like to reserve a space please let me know.
On the same afternoon we will have our very first Mud Run in the woods. The event will start with registration at 2.00pm and groups will start the circuit at intervals. The cost will be £3 per runner and £10 for a family. Hot drinks and refreshments will be available throughout the afternoon. More information will be circulated during the next week. Alex Bignell is designing the route so we will have a great fun afternoon with a bit of competition thrown in!
Please spread the message of these events as widely as you can. We are endeavouring to ensure our fundraising events are not too costly and a little bit different. They are not exclusive to the families of nursery children and you are welcome to bring family and friends. However, for all these events pre-booking is essential.
Spring Hat Parade
As mentioned in the previous term's newsletter, we host our Spring Hat Parade on the last day of this term which is Thursday 29th March. All children are invited to join in the fun wearing home-made/decorated hats, which are to be brought in on the morning, and friends and family are welcome to join us from 9.30am to watch the parade which will be followed by an Easter egg hunt on the village green (weather permitting).
Photographs
We have booked Pret-a-Portrait to come to take individual and our leavers' group photographs on Tuesday 15th May. Please can all children who will be leaving us this July come wearing their nursery uniforms at 9.05am. Children will be put into small groups for their photos which are then spliced together to form one group picture – examples of which you will no doubt have seen in reception. We will also have time to take individual photographs of all the nursery children. Your photographs will be available for you to view and order directly from Pret-a-Portrait's website shortly after the session. Log in details will be forwarded at the time.
Whole Nursery Trip to the Seaside
Our annual trip to West Wittering will be on Thursday 7th June for all children. We leave from the village hall by 9.15am, spend the morning on the beach, have a special lunch then return to Grayswood by 2.45pm. Precise details will be distributed shortly, but do make a date in your diaries!
Big Family Camp Out
We will be holding a big family camp out event on the weekend of 23rd – 24th June. We hope you will come and enjoy the weekend with us. More information soon but this is going to be a great weekend so pop it in your diary. It will be open to anyone to join us so perhaps you would like to gather some friends?
DATES FOR THE DIARY – 2018
Wednesday 28th February:                   Jane Tims' leaving celebration at 11.30am
Friday 23rd March:                                 Quiz Night
Sunday 25th March:                               Easter wreath making workshop 11.30am – 1.30pm followed                                                                              by the Mud Run 2.00-4.30pm
Thursday 29th March:                            Spring Hat Parade and last day of term
Monday 16th April:                                 First Day of Summer Term
Monday 7th May:                                    Bank Holiday
Tuesday 15th May:                                  Individual and Leavers Photos
Friday 25th May:                                      Sports Day
Monday 28th May – Friday 1st June:    Half Term
Thursday 7th June:                                  West Wittering
Saturday 23rd and Sunday 24th June: Big Family Camp Out
Friday 20th July:                                       Leavers' Day and last day of term
GENERAL INFORMATION
Session Times
Monday 9.05am – 2.45pm (Pre-School children only)
Tuesday – Friday 9.05am – 12.35pm
Tuesday and Thursday afternoons sessions end at 2.45pm
Contact Details
Village Hall telephone number: 01428 658931
Nursery mobile number: 07789 987280
Nursery e-mail address: info@grayswoodnurseryschool.co.uk
Nursery web-site: www.grayswoodnurseryschool.co.uk
NB The e-mail address is not accessible to staff whilst the nursery is in progress.
STAFF AT THE NURSERY
There are currently nine members of staff on the team each of whom works on different days as shown below. We also have Mrs Peat who is our lunch time supervisor on Monday and Tuesday as well as working in the nursery on Friday mornings. Miss Maureen on Mondays for music and movement and Bollie for Playball on Tuesdays.
| | | | | |
| --- | --- | --- | --- | --- |
| Monday | Tuesday | Wednesday | Thursday | Friday |
| Sue Bartrum | Sue Bartrum | Kate Dean | Lara Butler | Lara Butler |
| Lara Butler | Kate Dean | Richard Dean | Kate Dean | Kate Dean |
| Kate Dean | Richard Dean | Liz Juson | Richard Dean | Richard Dean |
| Richard Dean | Natasha Hayes | | Natasha Hayes | Natasha Hayes |
| Natasha Hayes | Liz Juson | | Anna Mitchell | |
| Yvonka Wilkinson | Yvonka Wilkinson | | Yvonka Wilkinson | |
Committee Members
This year's committee members are currently:
Chair – Philippa Hawkins Secretary – Charlotte Brown Treasurer – Sarah Canning
The committee work very hard to run events and fundraising activities on behalf of the nursery so please do help them out with this valuable task.
Finally, a few reminders:
The Nursery is not a place for poorly children. We are a learning environment and your child needs to be well in order to engage in their learning. If your child has been sick or had an upset tummy they must remain away from nursery for a minimum of 48 hours and not return until they have had a normal (for them) stool. As a general rule, children taking antibiotics should not be at nursery. Please ask us if you are unsure when your child should return to nursery after an illness.
If you have money you need to hand in to nursery for whatever reason please place this in an envelope (there are spare envelopes available in the staff pigeonhole in reception). On the outside of the envelope please write your child's name and what the money is for so it can be tied up later.
Please keep us informed of your current contact details particularly mobile numbers. It is essential that whilst your child is at nursery someone is available to collect them in the event of an emergency. Please ensure if you are unavailable someone else is able to be contacted and collect your child.
The children are not able to play with their own toys at nursery. Soothers/comforters ie soft toys and muslins may be kept in the basket by the door, or preferably in their bags. Dummies are not allowed in nursery under any circumstances. Please do not let your children wear jewellery to nursery or bring small toys etc. As a guide, children should not bring to nursery items which could fit inside a traditional 35mm film container.
"Staff are innovative and offer interesting and challenging experiences for children, that fully support their learning."