Summer 2016 Newsletter – Second half of term
Posted: 25th May 2016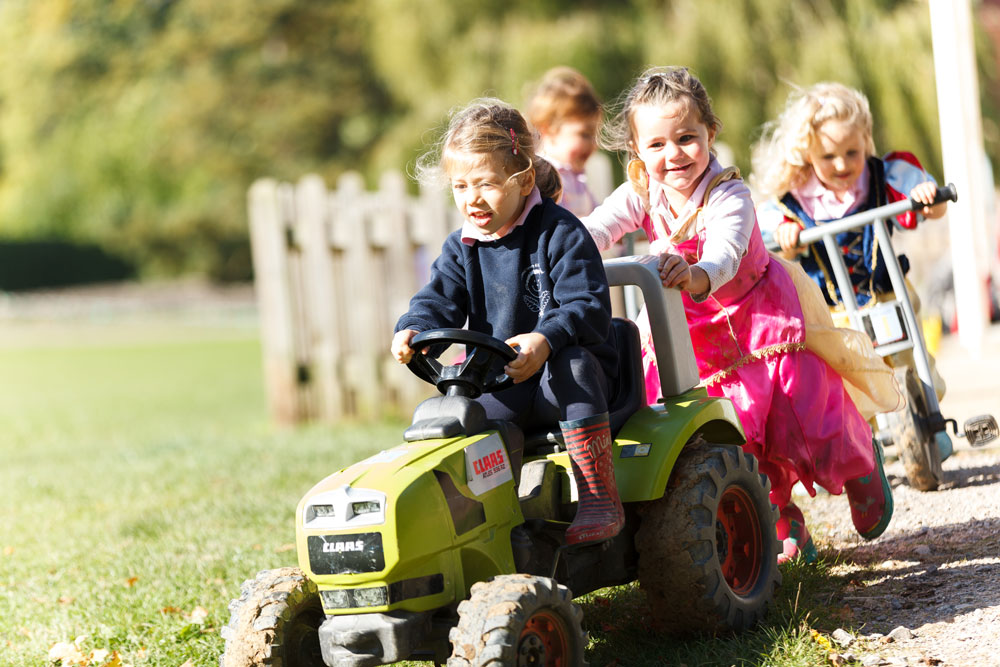 First, an update to our fundraising – we have been spending the funds wisely, as promised, and now have some lovely new things for the nursery: a new peg board to help with fine motor skills; rollers for sand play and art activities; two new play mats and we will shortly be ordering a few replacement red suits and thermal gloves as some are beginning to look a little tired.
Secondly, Vicki South has now completed her initial time with us but will continue to be available to support the nursery if needed. Various training courses have been undertaken by staff including Makaton, behaviour management, physiotherapy and a review of safeguarding.
Themes
This half term we will be concentrating on rhyme and alliteration, using the wonderful books of Julia Donaldson as inspiration for various activities such as art projects, the home corner, forest school sessions and outside play. We will look at many of her books including The Gruffalo, The Gruffalo's Child, Monkey Puzzle, Stick Man, The Smartest Giant in Town, Room on a Broom, The Scarecrows' Wedding, The Highway Rat, What the Ladybird Heard and The Flying Bath!
Room Layout and Arrival Procedures
The eagle-eyed of you will have noticed that we have altered the layout of the room slightly to aid flow around the room and also take into account the use of the space as the children have suggested by the way they have used it in the past. We now have a new specialist science/maths area and new places for forest school and reading/registration areas. This will help with our planned revised drop-off arrangements which we hope will mean that the majority of children will be dropped at the double doors as they are now so well settled and are able to self-register. Staff will be available to assist with bags, coats and names and we aim to begin the children's learning right from the off – so with fewer adults in the room the children will have more space and less distractions from people or noise in order to start their chosen activities and find their friends. If you are able to encourage your child/children to be prepared for this little change to the start of their day we would appreciate it. Of course, if there are still some children who find it difficult we will work with you and them to ease the transition. One of the key aspects of making this process work is to ensure that your child arrives on time as it really does help them settle into routine quickly.
World Book Day
This annual event, developed to encourage a love of books and reading in younger children, takes place on Thursday 3rd March and we will be distributing a £1 World Book Day voucher to each child for redemption between 29th February and 27th March 2016. All major supermarkets including Asda, Tesco, Morrisons, Sainsbury's, most large bookshop chains – WH Smith, Waterstones, etc and many independent booksellers are participating, so you should be able to find somewhere locally to spend your voucher.
Helper Rota
The new rota for this half term is available in reception for you to add your names. With everyone so well settled now we would love to see you. This is an opportunity to spend a little time with your child/children and join in their play before helping with snack preparation, tidy up time and with reading at the end of the morning. If you would like to join with a forest school outing, then make sure to bring your walking boots or wellies and a coat!
Confirmation of Personal Details
We will be distributing each family with a summary of the details we currently hold on record. Please ensure you check the information particularly the emergency contact information, amend where necessary, and return your signed form to either Kate or Liz by 4th March.
Sainsbury's Vouchers
As you may have noticed, we are collecting Sainsbury's Active Kids vouchers again. Please post your vouchers into the box in the reception area – and if you are able to collect from other sources (grandparents, aunties etc) they would all be very welcome! The vouchers are taking a different format this year, and do look a little like a till receipt, so please say 'yes' if asked at the checkout and let's see how much we can raise for your children this year!
Spring Hat Parade
We hold a spring hat parade on the last day of term which this year falls on Thursday 24th March. Please would you, and your little one(s), make a bonnet or hat at home – as simply or extravagantly decorated as you wish, and bring it in on the morning of the 24th. All non-Thursday children should arrive at 11.00 and we will begin the parade at 11.15, after which there will be an Easter egg hunt on the green. Parents, grandparents etc are all welcome to come and watch the parade and, hopefully, enjoy some spring sunshine before we break for the Easter holidays!
Advance Notices:
(as per the last newsletter)
Village Hall Closure
We have been asked by Waverley Borough Council to close on Thursday 5th May for elections for a new Police Commissioner for Surrey. We have therefore booked into the museum and details regarding dropping off and collecting of Thursday children will be issued nearer the time, as we cannot use the hall on the day.
Whole Nursery Trip to the Seaside
Our annual trip to West Wittering will be on Tuesday 14th June for all children. We leave from the village hall by coach by 9.15, spend the morning on the beach, have a special lunch then return to Grayswood by 2.45pm. Precise details will be distributed soon, but do make a date in your diaries!
Prêt a Portrait Individual and Leavers Photo
This professional photography company will be visiting us again on Thursday 16th June to take individual and our traditional Leavers Photographs. The Leavers photo has always been a special memento for those moving on to their next schools. All those children leaving us in July should come into nursery in the morning for the leavers photo, wearing their nursery uniform, and any children, siblings too, are welcome to come in if not their usual day, to have individual or sibling photos taken. These will then be made available to order through Prêt a Portrait's website – details of which will be circulated shortly after the photo shoot.
Dates for the diary
Monday 22nd February:      INSET day
Thursday 3rd March:      World Book Day
Thursday 24th March:      Spring Hat Parade and last day of term
Monday 11th April:      First day of summer term
Monday 2nd May:      May Bank Holiday
Thursday 5th May:      Police Commissioner Election – Village Hall being used as a polling station so trip to the museum for Thursday children.
Friday 27th May:      Sports Day
Monday 30th May:     Friday 3rd June inc Half Term
Tuesday 14th June:      Whole nursery trip to West Wittering
Thursday 16th June:      Prêt a Portrait Individual and Leavers Photo
Friday 15th July:      Last day of term
General Information
Session Times
Monday 9.05am – 2.45pm (Pre-School children only)
Tuesday – Friday 9.05am – 12.35pm
Tuesday and Thursday afternoons sessions end at 2.45pm
Contact Details
Village Hall telephone number: 01428 658931
Nursery mobile number: 07789 987280
Nursery e-mail address: grayswoodnursery@hotmail.co.uk
Nursery web-site: www.grayswoodnurseryschool.co.uk
NB The e-mail address is not accessible to staff whilst the nursery is in progress.
Staff at the Nursery
There are currently nine members of staff on the team each of whom works on different days as shown below. Beryl Brogden is continuing to volunteer on Mondays and Jane Barratt on Wednesdays. We also have Miss Maureen on Mondays for music and movement and Bollie for Playball on Wednesdays.
| | | | | |
| --- | --- | --- | --- | --- |
| Monday | Tuesday | Wednesday | Thursday | Friday |
| Kate Dean | Sue Bartrum | Sue Bartrum | Sue Bartrum | Sue Bartrum |
| Richard Dean | Lara Butler | Lara Butler | Kate Dean | Lara Butler |
| Natasha Hayes | Kate Dean | Kate Dean | Richard Dean | Kate Dean |
| Jane Tims | Richard Dean | Richard Dean | Natasha Hayes | Richard Dean |
| Yvonka Wilkinson | Natasha Hayes | Liz Juson | Liz Juson | Natasha Hayes |
| Beryl Brogden | Anna Mitchell | Jane Tims | Yvonka Wilkinson |  Jane Tims |
| | Yvonka Wilkinson | | | |
| | | | | |
Committee Members
This year's committee members are:
Chair – Phillipa Hawkins
Secretary – Irene Levine
Treasurer – Sarah Canning
Events and Fundraising – Zoe Oliver-Wiegand
Committee Members – Heather Laybourne
The committee work very hard to run events and fundraising activities on behalf of the nursery so please do help them out with this valuable task. They are always looking for additional members of the group
Finally, a few reminders:
The Nursery is not a place for poorly children. We are a learning environment and your child needs to be well in order to engage in their learning. If your child has been sick or had an upset tummy they must remain away from nursery for a minimum of 48 hours and not return until they have had a normal (for them) stool. As a general rule, children taking antibiotics should not be at nursery. Please ask us if you are unsure when your child should return to nursery after an illness.
Please keep us informed of your current contact details particularly mobile numbers. It is essential that whilst your child is at nursery someone is available to collect them in the event of an emergency. Please ensure if you are unavailable someone else is able to be contacted and collect your child.
Please do not let your children wear jewellery to nursery or bring small toys etc. As a guide children should not bring to nursery items which could fit inside a traditional 35mm film container.
"Wow Troy's last week! I just wanted to say a huge thank you to you and the team at Grayswood. I couldn't have asked for a more perfect start to Troy's development and independence. "